Do you remember those nineties when New York fashion came on? "I Love New York" could be read in almost any t-shirt and vinyl reproductions, posters and pictures of Manhattan's skyline filled salons and rooms everywhere. After thisUSA fever, the Parisian bohemia arrived as well as the always elegant London.
For these years, new proposals have derived from the ethnic to the local, but today we bring you an atmosphere as seductive as the previous ones: halfway between the cosmopolitanism of the big cities and the charm of the uniqueness. We are talking about reproducing at your own home the special atmosphere of Argentina.
Dare to use the boldest color combinations when wearing a good pair of argentine espadrilles Paez and have an outfit in line with our purpose: bring the air of South America to our homes.
Colorful and evocative decoration
Thinking about Buenos Aires is thinking of colors: from the lively signs of its shopsor the Casa Rosada seen from the greenery of the Plaza de Mayo to the Caminito Street in the Boca neighborhood.
Therefore, it's a good idea to print this style playing with different colors as it's done with the houses of this particular andworld-wide reproduced street of the Argentinian capital in our rooms. Try not to use a single color on the walls, painting each one with a different color so that none of them dominates the rest, afterwards dress them with posters like the classic porteño cafes.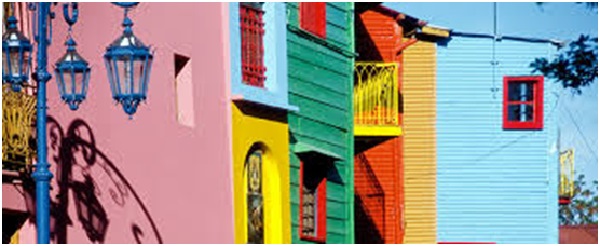 Casual and versatile fashion
A style is carried from head to toe, and this is where Argentinawins: from their famous artisanespardilles, resistant both to endure the everyday life of a big city as well as for the outings and excursions to the great field extensions and mountains that offers us this amazing country, to the hats of Gardelian inspiration, with the elegance that only those who ride horses are able to print.
Social designed spaces
Another strong character of the Argentinian inspiration andeasily applicable to our homes, is designing spaces for social gatherings such as a nice talk among friends or to share a good and copious meal.
In an Argentinian hall there is never enough room for a good asado, which we can reproduce inspired on the false chimneys from the 70-80 decades. Givinga rural touch to our dynamic style, bringing us to the extensive meadows of the Argentinian Pampa.
The natural versus the artificial
Forget those vases with plastic flowers! Argentina carries nature in its veins, and if you want to transport yourself to the world of sensations that involves traveling from Patagonia and the Andes to the Iguazu Falls, there is no room for artifices.
Compositions with fresh fruits, natural smells made with a mixture of flowers, ferns and leafy plants … every natural touch that erases the artificiality of your apartment can carry the Argentinian seal of quality.