Neolith has conquered the market space with its revolutionary designs, composition, colour variations, durability, and strength to name a few of its outrageously wide spanning attributes.
This redefining product is pioneered to be an extraordinary stone for architectural, exterior and interior designing needs, craved by property developers, home buyers and even commercial space owners.
Neolith is a 100 percent sintered stone, what that means is that it is composed of mainly three natural elements that are blended under extreme pressure, resulting in a surface that is characterized by its non-porous attributes, strength and resistance to extreme heat and cold conditions.
Granite minerals- natural quartz and feldspar which provide hardness and strength to the material
Glass minerals and silica which gives chemical stability and uniformity in colour and shade
Natural oxides which supplements chromatic properties, resulting in an end product with unique finishes
Neolith is the final outcome of the best raw materials that have been carefully selected and tested under industrial conditions and the latest technology available in the stone industry. This is why the stone is preferred for use anywhere at home, restaurants, hotels or offices; in any area including floors or walls, bathroom to bedroom, ceiling to stair cases, patios, terraces and balconies, for both indoors and outdoors applications.
Neolith's collection is as vast as the needs and taste of its end users. A few colours from the different ranges offered by this stunning palette of materials are outlined below:
Neolith Estatuario: This model stands out due to its faithful interpretation of the famous Italian Statuario marble. It imparts a blend of thick yet subtle grey veins crossing a pure white background. This gives Neolith Estatuario a design that exudes elegance and decorates any area of its use with a touch of freshness, class and beauty.
This white veined marble is highly demanded by home owners across the world due to its timeless appeal and ease of use when it comes to design combinations adapting itself to any setting including modern, traditional, eclectic and contemporary architectural spaces.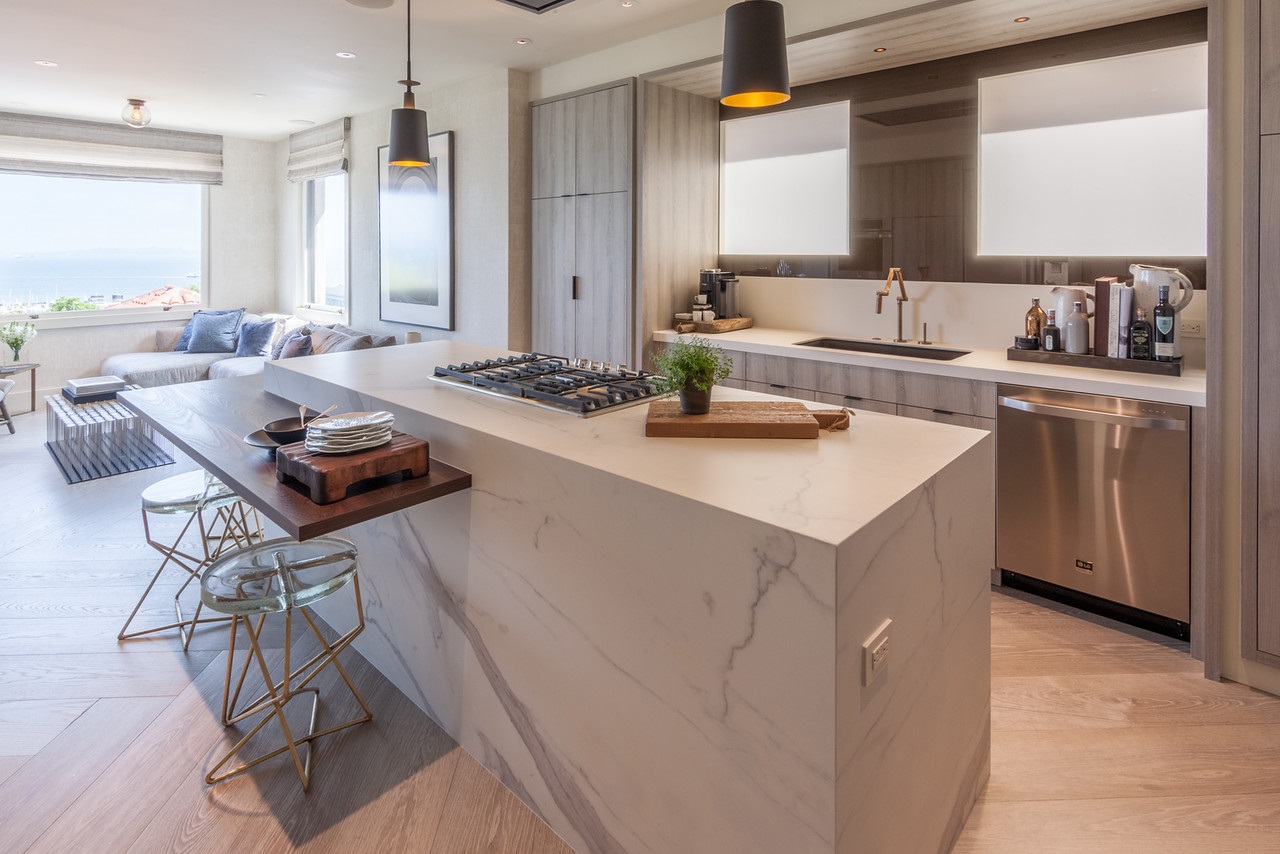 The above image shows a kitchen island, downstands and worktops in Neolith Estatuario ER01
Neolith Calacatta: With many awards and accolades under its belt, the Calacatta model is the one of the most popular designs out there, proving its subtle elegance and originality.
Neolith Calacatta is inspired by the very best batches of Calacatta Oro marble from Italy located in the Carrara region in the north of the country which is reinterpreted by The Size who makes it available in the market under the Neolith brand. This model offers a design with a very well-distributed and uniform grey vein with subtle golden tints which characterize the material, all along the board which optimises its use irrespective of the type of application. Its greyish mesh with subtle veins hints of gold lies on a bright white background which brings a perfect tonality with lightness in the surroundings where it is implemented.
Neolith Calacatta is unique and it offers different aesthetic effects as they are available in different versions which allow users to choose the way in which the vein runs across the slab of material.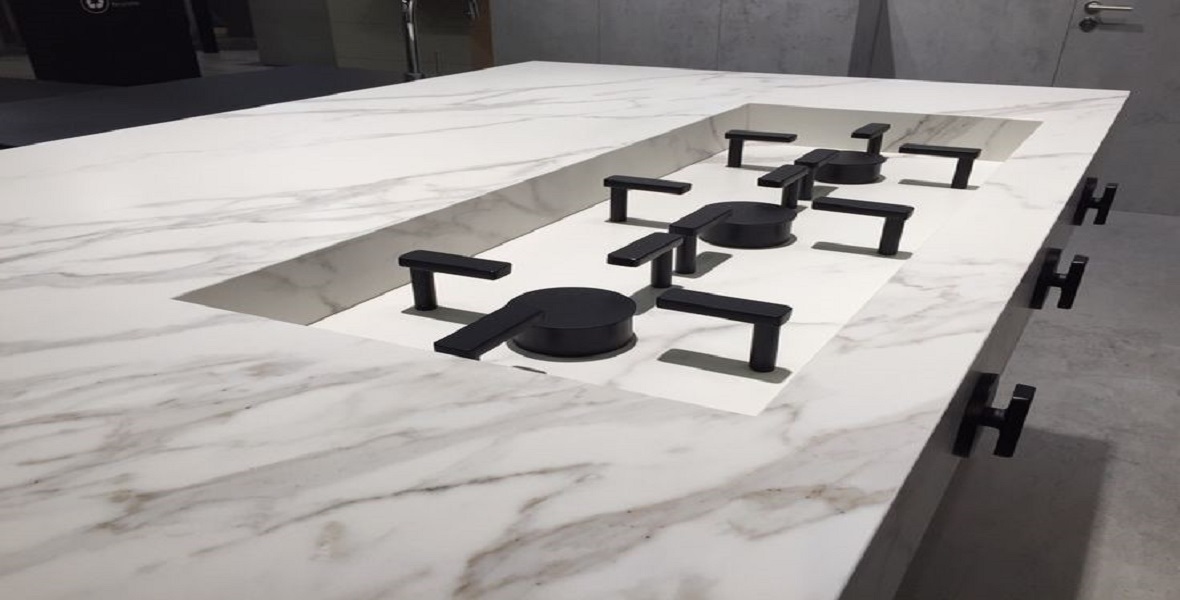 The above image shows a kitchen island in Neolith Calacatta in a polished finish with built up edging
Neolith Zaha Stone: Neolith Zaha Stone is inspired from the most notable and one of the greatest architects in the world, the late Zaha Hadid. This stone is inspired by Persian materials and it is praised for its use in floor, walls, worktops, cladding, staircase, fountains, pools, and several other indoor and outdoor applications. Neolith Zaha stone comprises a light-to-mid-grey backdrop with a striking combination of white veins that makes a finer statement in its Silk finish and elegantly converts any surrounding with the purest quality and strength that this stone provides.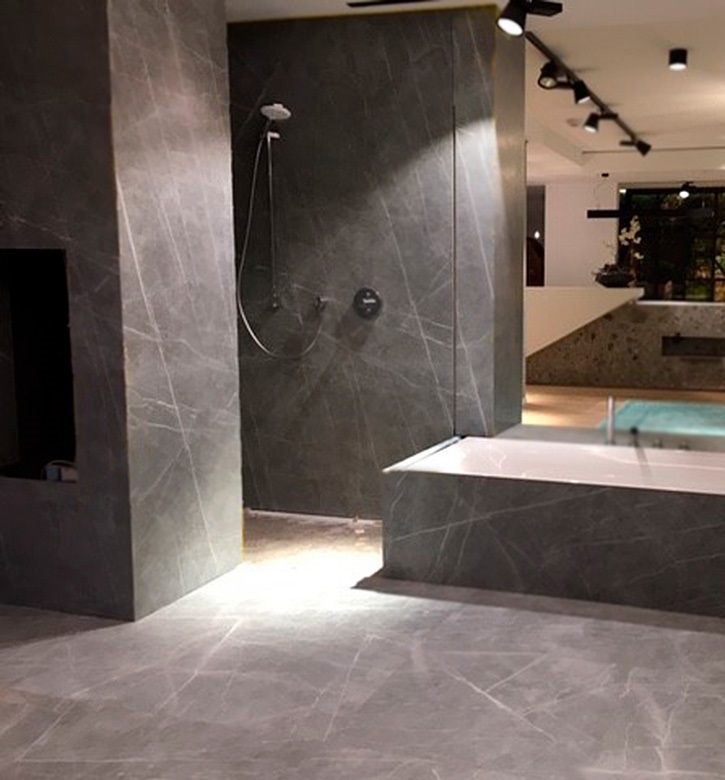 The above image shows floorings, wall and bath top cladding in Neolith Zaha Stone in a Silk finish
Neolith Beton:
Neolith Beton is inspired by the material of high architectural significance- concrete. This material offers the possibility of amplifying any interior or exterior space with an industrial style and contemporary design, and is available in slab sizes of 3200x1200mm and 3200x1500mm which allows for seamless large surfaces as well as thicknesses of 3mm and 6mm which are ideal for cladding applications. Further to this, Beton can be chosen in a Silk finish as well as Riverwashed, which further enhances its industrial feel and look. Quite literally, the design possibilities with Neolith Beton are infinite.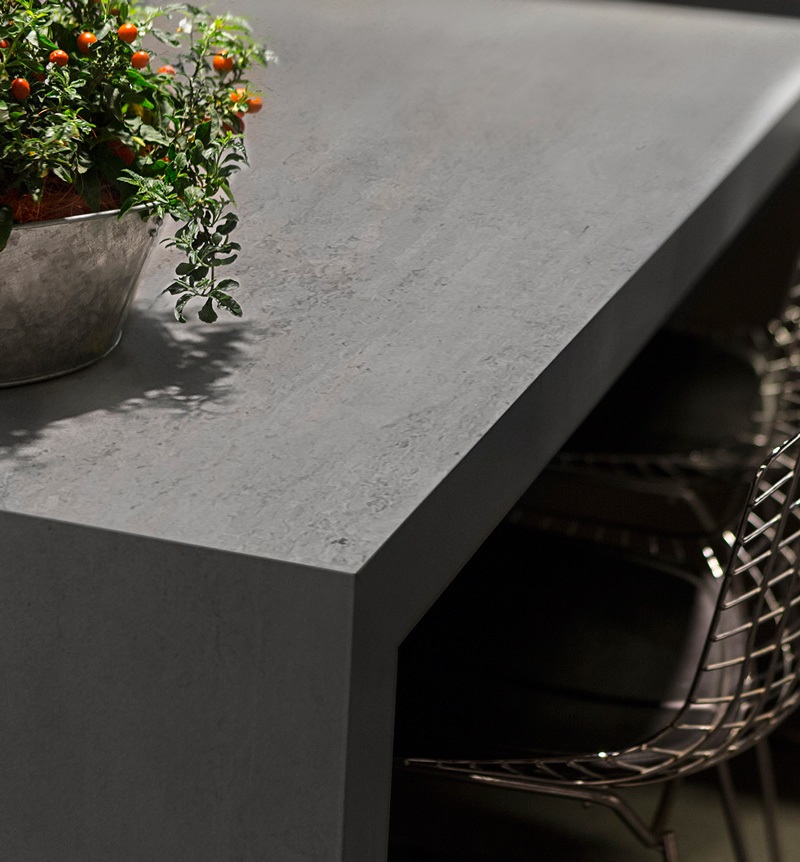 The above image shows a garden table and mitred downstands in Neolith Beton sintered porcelain
Neolith Carrara:
Neolith Carrara is inspired by the real Carrara marbles from Italy which is the most popular stone in the world and has been extensively used by the Roman and Greek empires due to its unique looks that offer subtle elegance and timeless appeal. The designers at The Size, who manufactures Neolith, have collated dozens of natural marble types and batches, exactly pin-pointing the qualities and characteristics they want to replicate in this Neolith technological marvel. It comprises the natural aesthetic elements of the original marble and reinterprets it is unique in beauty like no other composite material in the marketplace. It is available in Décor Polished with a beautiful sheen and a Silk finish that provides a more classic look for traditional design and architectural settings.
All Neolith materials are non-porous, heat resistant and anti-bacterial. They are also very easy to clean and maintain and do not require sealing. Suitable for internal and external applications, Neolith offers something for everyone.